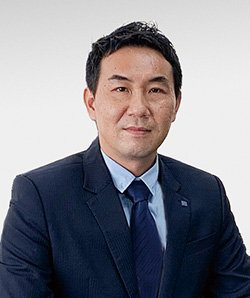 Toshiyuki Mitsumoto
President and Representative Director
JESCO HOA BINH ENGINEERING JSC
HOA BINH ENGINEERING JSC, the predecessor of JESCO HOA BINH ENGINEERING JSC (JHE), was established in 2008 by Hoa Binh Corporation and specialized in installation of electrical equipment, air-conditioning and ventilation facilities, water supply and drainage systems, and fire prevention systems.
In 2014, JHE was established as a joint venture with JESCO ASIA JSC, a Vietnamese subsidiary of JESCO Holdings, Inc. possessing abundant experience in design and construction of mechanical & electrical systems (M&E).
Whereas JHE is in charge of M&E installation, JESCO ASIA takes care of design and consulting. Thus the two companies can complement each other by capitalizing on their respective experience and capabilities to offer speed and other advantages in the development of Vietnam's infrastructure.
JHE's wealth of expertise has earned the confidence of investors who demand high quality and cost efficiency.
JHE has grown and developed since 2008 to become one of the leading M&E contractors in Ho Chi Minh City. In order to ensure customer satisfaction, our people are mastering the latest technology and endeavoring to deploy their expertise to maximum effect as they pursue creativity and innovation, thus sharpening JHE's competitiveness in the Vietnamese market.